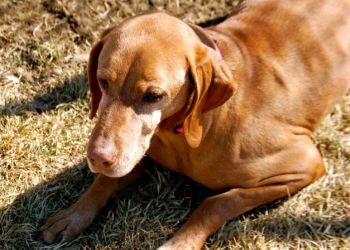 By Coleen Ellis, founder of Two Hearts Pet Loss Center, and blogger for dog insurance and cat insurance provider Pets Best Insurance.
If you haven't seen the photo of Hawkeye, a beautiful black lab, laying by the casket of his deceased military owner you must check it out. The photo is sure to tug at the heart strings of even the most hardened of hearts.
Or possibly you've heard the story of Bobby, who survived his owner by 14 years, and is said to have spent the rest of his life sitting on his master's grave — leaving for meals at a nearby restaurant — only to become the subject of biographies, a novel, two films and a commemorative statue.
Yes, pets grieve for the loss of their owner companions, too. We have domesticated our pets to the point that their emotions have been a controversial topic of conversation for years. Can they feel? Can they reason? Can they mourn?
Most certainly they do mourn. When a pet's owner dies, there are numerous ways that you can help the pet through their grief journey.

Read More…