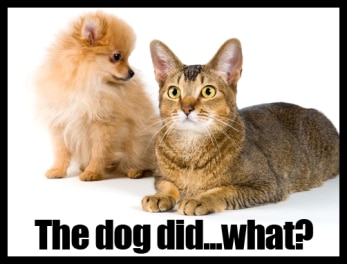 By Arden Moore, a certified dog and cat behaviorist with the International Association of Animal Behavior Consultants. Arden is an author, radio host, and blogger for dog and cat insurance provider Pets Best Insurance.
Does your dog raid the litter box and eat "treats" out of it? It sounds disgusting, but many households that have dogs and cats struggle with this issue. Here are three reasons dogs eat cat poop from the litter box.
1. Nutritional deficiency
Eating the cat's poop might signal a vitamin deficiency in your dog's diet. If you feel it might be a nutritional issue, consult with your veterinarian. You may need to switch your dog's food to a formula that is higher in fat, fiber or protein. Additionally, your dog may need more vitamin B.