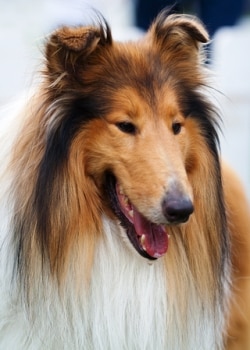 Dr. Fiona is a veterinarian and writer for Pets Best, a dog insurance and cat insurance agency.
About the Collie
Height (to base of neck): female 22-24″, male 24-26″
Weight: female 50-65lbs, male 60-75lbs
Color: Tri-color, blue merle, white and sable, and white.
Origin: Scotland and England
Coat: Thick, double coat with harsh straight outercoat and soft wooly undercoat is the standard for the rough coated Collie.  A thick undercoat and short dense flat outercoat is standard for the smooth coated Collie.
Life Expectancy: 14-16 years
Energy level: Moderate
Exercise needs: Moderate
Breed Nicknames:
Is a Collie the Right Dog Breed for You?Read More…