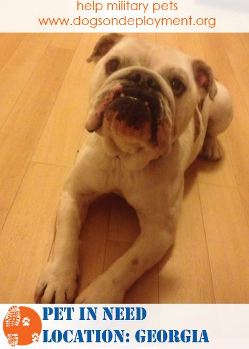 Pets Best, a pet insurance agency for dogs and cats, is a proud sponsor of Dogs on Deployment. Learn about this great organization that helps find temporary homes for dogs, when their owners are deployed with the military.
About Dogs on Deployment – By President and Co-Founder Alisa Johnson
A dual-military husband and wife simultaneously received orders; the husband was to be deployed while the wife was to attend military training at Quantico, Va. Because of the sudden geographical separation and military commitments, neither spouse was able to keep and care for their beloved dog. After searching every available option, they eventually met a family that was willing to offer their dog a home until the couple's orders were finished. This real life scenario is what prompted the founders to establish Dogs on Deployment and inspired them to create an organization that would help other military members in similar situations.
Dogs on Deployment is a service member-ran 501(c)3 non-profit founded in June 2011. DoD provides an online resource for deploying military members to search for volunteers who are willing to board their pets while they're away due to deployment, military travel, medical treatment or severe family crisis. Many military members are forced to relinquish their pets because of deployments and the scarcity of boarding options. DoD aims to alleviate this by providing a resource to seek help. Since their launch in June 2011, DoD has helped place nearly four-hundred pets in DoD Boarder homes and has recruited nearly seven-thousand volunteer boarders across the United States. DoD operates nationwide and is open for use by all military members during deployments and training exercises.

Read More…