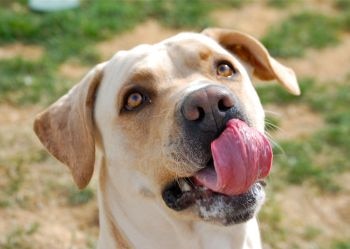 By Dr. Fiona, a veterinarian and blogger for pet insurance provider, Pets Best Insurance 
All dogs lick, but some dogs lick in excess. In these situations, there is often a medical or behavioral reason for the licking. Here are nine reasons dogs lick excessively.
Medical Reasons Dogs Lick
1. Allergies – A dog may lick their skin because it itches from allergies
2. Infections – Infections with bacteria, fungus or parasites are itchy and can make dogs lick excessively
3. Pain – Underlying pain from arthritis, for example can make a dog licks its joints
4. Gastrointestinal issues – Occasionally dogs that lick strange surfaces (but not usually itself) will have underlying GI issues
If a cause is thought to be medical, a consultation with your veterinarian is needed find a solution that helps your dog.
Behavioral Reasons Dogs Lick

Read More…