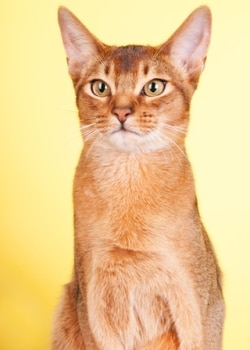 Dr. Fiona is a veterinarian and writer for Pets Best, a dog insurance and cat insurance agency.
About the Abyssinian
Weight:  9-12lb
Points of conformation: Lithe, medium sized body with slender legs and a long arched neck.  Wide set ears and wedge shaped face.
Coat: Short, fine, shiny hairs in agouti pattern
Color: White chin and chest. Ruddy, blue, sorrel, fawn and lilac and silver.
Grooming needs: low
Origin: Southeast Asia
Behavior Traits: Athletic, playful and very active.
Is an Abyssinian cat right for You? Read More…