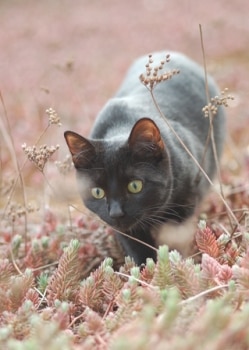 By Dr. Matheys, a veterinarian and blogger for cat insurance provider Pets Best Insurance.
When you put a collar on your cat, you probably don't give it much thought. It's likely you chose the collar based on how pretty it is or how well it coordinates with your cat's coat color. But in truth, a proper cat collar can mean the difference between safety for your cat and a possibly life-threatening situation. Here is Jethro's story.
Two-year-old Jethro disappeared from a backyard patio almost five months ago. His heartbroken family feared he had been stolen or was possibly even deceased. It was quite a surprise when a Good Samaritan, who happens to be a client of ours at The Cat Doctor, found Jethro a couple of weeks ago about a mile and a half from the family's home. Jethro was wearing a collar with a tag that had his name and his owner's phone number, so the owner was able to be contacted right away.
Jethro's collar and tags provided the way for him to be reunited with his family, but the collar also caused injury to him. It was made from a solid piece of non-stretch material with no safety release. Somehow, Jethro got his front leg through it, and it was stuck around the leg, running diagonally from one side of his neck to under his armpit on his opposite side. The months of constant friction against his skin caused the collar to literally "saw" through his skin. He had a gaping wound in his skin going from his chest all the way under his armpit and up the other side. The underlying muscle tissue was exposed and raw. Amazingly, the horrible wound did not seem to bother Jethro in the least. Maybe he was just happy to have been found!

Read More…