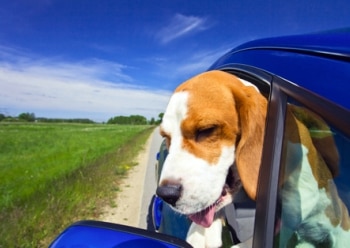 By Arden Moore, a certified dog and cat behaviorist with the International Association of Animal Behavior Consultants. Arden guest blogs for dog insurance provider, Pets Best Insurance.
Recent surveys indicate about 29 million people travel with their pets each year and that number continues to grow.
When hitting the road with your pet, however, pay attention to the weather. Extreme hot or cold can impact your decision to have your dog join you. Never leave your dog alone in your vehicle during warm weather. Not even for just a few minutes. Even if you crack the windows a bit, the temperature inside your car climbs quickly and your dog can develop heat stroke and die.
When traveling with your dog in the hot weather, make sure the air conditioning is on. Consider attaching a small battery-operated fan to your dog's crate for added ventilation. Bring extra water and look for the key sign of dehydration: your dog's tongue is wide, red, and dry.

Read More…