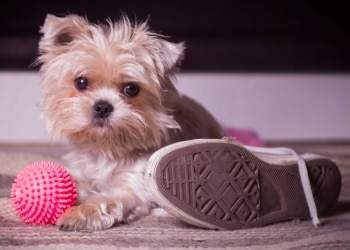 By: Dr. Fiona, a veterinarian and writer for Pets Best, a pet insurance agency for dogs and cats. 
Hi. I'm Dr. Fiona and I'm a veterinarian at Idaho Veterinary Hospital, and I'm answering questions today from pet owners for Pets Best. This question is, "Why does my dog always need to chew her toys on people's feet. She never chews the shoes, just wants to chew her toy on top of people's feet."
This is a funny question. If only we knew what was going on inside our dogs' heads, but here are three ideas as to why your dog might do this.
1. One could be, especially for little dogs, that feet tend to be a strong-smelling area. So it could be that she's associating your feet with you and your smell and your shoes with you, and so it's her way of kind of bonding with you.

Read More…