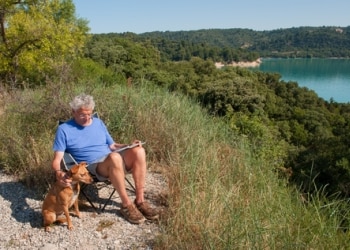 By Arden Moore, a certified dog and cat behaviorist with the International Association of Animal Behavior Consultants. Arden is an author, radio host, and writer for Pets Best, a pet health insurance agency for dogs and cats.
For lifelong dog lovers approaching their golden years, sharing their homes and hearts with dogs provides many physical, mental and emotional health benefits. Research has shown that dogs help lower blood pressure and cholesterol levels, and combat loneliness.
Choosing the right canine companion is a very big decision. You want a dog who provides companionship, but not one who can knock you off your feet during a walk.
So which breeds are best suited for aging persons? There is no one breed perfectly suited for seniors, but here are some with reputations for making your golden years truly illuminating:
1. Mellow adult or senior mutts. Animal shelters and rescue groups across the country are overpopulated with mature dogs with predictable temperaments who have long graduated from the destructive chewing and house soiling habits that are hallmarks of puppyhood. Here's your opportunity to match your activity level and give a dog a second chance at a happy home. If you love big breeds like Labradors and Golden retrievers, here is your opportunity to pair up with one who may sport a graying muzzle and a toned-down energy level
2. Miniature Schnauzer. Yes, this breed is feisty, playful and vocal. For seniors like my neighbor and friend Frum, this is the ideal breed. Not too big but big enough to protect her and send solicitors at her door back paddling by his barrage of warning barks. When her husband passed away nine years ago, she filled the void of an empty home by adopting Buddy, a 12-week-old miniature Schnauzer. Now, 90, Frum says that Buddy's comical antics and love of snuggling keep her feeling years younger.
3. French Bulldog. If you loved the swagger and power of an English bulldog in your prime, consider the smaller and easier-to-handle Frenchie. Here is a breed that requires a very manageable amount of daily exercise, say a 15 or 20 minute walk and one you can easily pick up. Most Frenchies weigh between 20 and 28 pounds. They are very social and usually welcome house guests, including grandchildren.Read More…