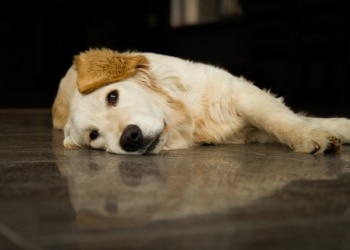 By Dr. Eva Evans. A veterinarian and writer for Pets Best, a pet insurance agency for dogs and cats. 
Sometimes dogs get into things they shouldn't. Occasionally they eat toxic foods, chemicals or entire indigestible objects. When this happens, your dog may need to vomit up the product that it ate to prevent further problems from occurring. This list outlines what you should know about making your dog throw up with hydrogen peroxide. First and foremost, call your veterinarian immediately to discuss the situation. There are many instances in which inducing vomiting is not the best treatment.
After you consult with your veterinarian, they may instruct you to bring your dog in for treatment, or they may recommend giving your dog hydrogen peroxide at home to induce vomiting. If your veterinarian instructs you to give hydrogen peroxide, they will tell you how much to give your dog. The rule of thumb is to give 1 teaspoon (5 ml) for every 10 pounds of body weight. This can be repeated once if your dog does not vomit within 15 minutes.
Here are four things you should know before attempting to induce vomiting in your dog with hydrogen peroxide.
1. Know The Time Frame – if your dog ingested something more than 2 hours ago, it is probably too late to get the substance out of his stomach. Typically, two hours after ingestion, the substance has already been absorbed or has moved out of the stomach and into the small intestines. When this happens, making your dog throw up will not help. If you do not know when your dog ingested the substance, it may still be beneficial to induce vomiting, but don't be surprised if nothing comes up.
2. Know The Product – Certain chemicals such as bleach and Drain-O are caustic. This means that they can cause more damage to the esophagus and mouth if they are vomited back up. Read More…