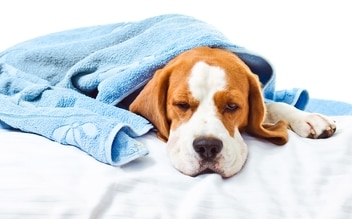 By veterinarians Dr. Marc and Dr. Fiona, for Pets Best, a pet insurance agency for dogs and cats
Fall is in full swing, bringing a whole slew of new reasons pets are taken to the veterinarian's office. Here are eight common fall-related reasons dogs and cats visit the vet.
1. Parvovirus
Some infectious diseases seem to have a seasonality to them, Parvo is one of them.  We tend to see an increase in Parvovirus infections this time of year in unvaccinated puppies.  Always make sure your pets are up to date on vaccines!
2. Allergies
Just like in people, the poor air quality, increased dust and pollen from changing seasons can trigger allergies in pets as well. While we occasionally see pets with respiratory symptoms, many will present with itchy skin and ear infections.
3. Arthritis
Cold weather can exacerbate some older pets' achy joints.
4. Antifreeze ToxicityRead More…