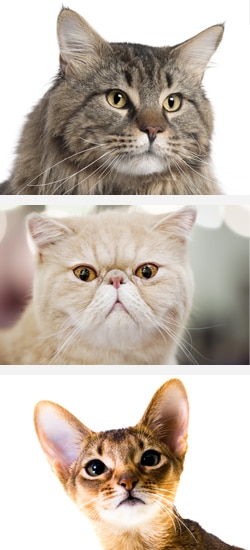 By Arden Moore, a certified dog and cat behaviorist with the International Association of Animal Behavior Consultants. Arden is an author, radio host, and writer for Pets Best, a cat insurance and dog insurance agency.
When searching for a kitten or cat to adopt, how can you tell if your selection will be a lap lounger, a shy cat, or an adventure seeker?
Purebred cats tend to have certain characteristic personality traits, though individuals within breeds may be very different. With the typical shelter cat, personality clues may be linked to the shape of the cat's face.
Kit Jenkins, program manager for PetSmart Charities, has spent more than 20 years in the animal sheltering world studying the behavior of cats and dogs. She has developed a theory of cat face geometry, based on the fact that feline faces usually fall into one of three physical shapes: square, round, or triangle. While genetics and life experiences play major roles in how cats think and act, Jenkins contends that personality is also influenced by a cat's physical shape. Here's how she describes the various types:

Read More…