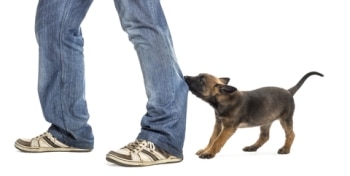 By Arden Moore, a certified dog and cat behaviorist with the International Association of Animal Behavior Consultants. Arden is an author, radio host, and writer for Pets Best, a dog insurance and cat insurance agency.
When it comes to your fast-growing puppy, do not dismiss his playful nips as merely love bites. Sure, your pup is darn cute and exudes plenty of canine charm, but ouch! His sharp, pointed teeth can hurt and even break skin.
Play mouthing develops in puppies by four weeks of age and accelerates between 4 and 14 weeks of age. It is a normal behavior, but unchecked, it could evolve into a more serious behavior issue: play aggression.
Once you bring home your adorable puppy, immediately start training him that hands, forearms, legs and other human body parts are not canine chew toys. Follow these steps:
1. Make your skin far less tempting to your mouthy pup. Spritz your exposed limbs with Bitter Apple spray or a mint-flavored breath freshener spray. Be creative and dab your hands and arms with pickle juice. The juice contains a very sour additive called alum, which keeps the pickles crisp but also serves as a good dog deterrent.
2. Speak up and yip loudly. Some puppies are adopted before they can properly learn bite inhibition from their littermates and their moms. So, when your puppy nips or mouths you, yelp loudly. Stand up, turn your back on him and walk slowly away. Your actions convey to your pup is, "You're not fun right now, and playtime is over." Your pup will learn that nipping ends good times.
3. Bring on the suitable chewables. Read More…