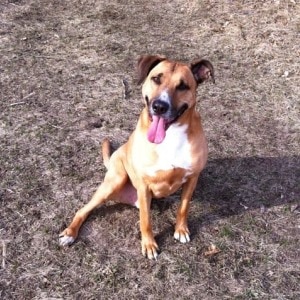 In July we asked our over 40,000 Pets Best Facebook fans to share photos and stories of their adopted mixed breed dogs for a chance to win a genetic test in honor of National Mutt Day, which is celebrated bi-annually in both July and December. The winner was a spirited, three-legged dog named Georgie.
Mixed breed dogs are by far the number one insured dog breed with the pet insurance agency, Pets Best, accounting for about 30% of all the dogs insured. Many pet parents guess or assume the breeds of their mutt, but actually discovering what breeds the dog is can be surprising!
Prior to receiving the genetic test, we interviewed Georgie's pet parent, Lisa, to see what her thoughts were before learning of his results.
What breed(s) do you think Georgie is?
I'm guessing Georgie is a pit bull/Labrador/German shepherd mix. My husband thinks there may be some Rhodesian Ridgeback and my veterinarian is leaning towards Boxer.
When did you get Georgie and do you know anything about his history prior to you adopting him?
Georgie was left in front of the Terre Haute Humane Society, overnight in an outside kennel with his back left paw cut off and no explanation. With the help of community donations and a generous fourth-grader selling t-shirts and raffle tickets, they raised enough money to cover the cost of Georgie's amputation surgery. He entered foster care, but was still unable to find a home in Indiana. At five months old, he was rescued by S.A.F.E. Sanctuary, here in Minnesota. We then adopted Georgie through PetFinders in 2005.
What are some of your favorite things about Georgie's personality?
He is so darn happy all the time. He loves everyone and is such a sweetheart. Anyone who meets Georgie falls in love with him. Georgie really loves life on the farm. He enjoys riding in the Kawasaki Mule with me and finding a shady spot in the vineyard while I'm working. He is crazy about broccoli, green beans, and carrots and thinks having his teeth brushed is so much fun, probably because I get excited about it. He also loves to run around in big circles as fast as he can.
How has Georgie impacted your life?Read More…