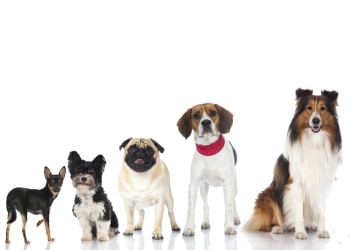 By Dr. Eva Evans, a veterinarian and writer for Pets Best Pet Health Insurance for dogs and cats.
As our pets age, they become more susceptible to disease. While most diseases can happen in any size or breed of dog, the following are most common in small and medium sized breeds. Small breeds tend to be less than 25lbs, examples of small breeds include Chihuahuas, Shih Tzus, Rat Terriers, Boston Terriers, and Pugs. Medium breed dogs tend to be less than 50lbs, examples of medium breeds include Beagles, English Bulldogs, Cocker Spaniels, Corgis, Whippets, and Shelties.
If your dog falls into this category, she may be at risk for any of the following diseases as he or she ages.
1. Heart Disease
Most senior aged small dogs have a heart murmur. Heart murmurs are a very common aging change that is most often related to mitral valve degeneration. This means that the valve separating the top and bottom chambers of the heart on the left side becomes diseased and doesn't close like it should normally. This allows for a backflow of blood into the upper chamber of the heart. A murmur can be diagnosed with a stethoscope by your veterinarian, and often times it will not cause a problem. In some pets, this murmur can get so severe that it actually causes congestive heart failure. If this happens, you may notice shortness of breath, increased respiratory rate and effort, coughing, difficulty and discomfort when sleeping or laying down and exercise intolerance. If you note any of these issues, your dog should be seen by a veterinarian immediately, as congestive heart failure is quickly progressive and fatal if left untreated. Fortunately, there are medications that can help the heart pump blood better if your pet is diagnosed with heart failure, and these can extend quality and quantity of life. Heart murmurs are often associated and worsened by severe dental disease. Bacteria from the mouth enters the bloodstream and sticks to the heart valves where it grows and causes the valves to malfunction. This is one reason why it is very important to have your pet's teeth cleaned regularly to prevent plaque and tartar buildup as well as gum disease!
2. Collapsing TracheaRead More…