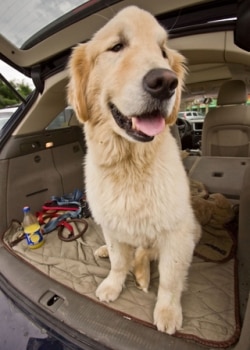 By Arden Moore, a certified dog and cat behaviorist with the International Association of Animal Behavior Consultants. Arden is an author, radio host, and writer for Pets Best, a pet insurance agency for dogs and cats.
Imagine driving for three days, staying at two hotels and covering 1,383 miles with a 60-pound dog and a meow-happy cat. And, then a week later, repeating this trek to return home. Does that sound like your dream road trip? Surprisingly, it was for me!
Latest national pet surveys indicate more than 70 percent of people take their dogs – and yes, even some travel-savvy cats – on road trips.
To keep your sanity and to keep your pets safe during those long hours of drive, here are 8 tried-and-tested tips:
1) Pack with a purpose
Keep pet travel essentials in your vehicle. My must-have list include a water bowl, bottled water, extra leash and collar with identification tags, poop bags, an old towel, pre-moistened wipes, a basic first-aid kit, necessary medications, a copy of health records, bedding, treats, one or two favorite toys and at least a 3-day supply of food inside resealable plastic bags or containers.

Read More…