By Arden Moore, a certified dog and cat behaviorist with the International Association of Animal Behavior Consultants. Arden is an author, radio host, and writer for Pets Best, a cat insurance and dog insurance agency.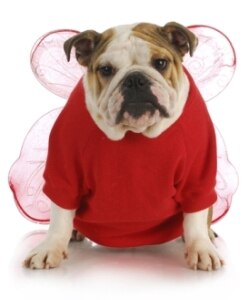 With Halloween approaching, more people are pairing up with their dogs to go trick-or-treating or attending costume parties.  According to a 2012 survey conducted by the National Retail Federation, Americans spent a record $370 million on pet costumes in 2011.  Among the most popular costumes are dogs dressed up as ghosts, action or super heroes, witches, pumpkins, devils and bumblebees.
Some outgoing, confident dogs happily and effortlessly turn into clothes hounds for Halloween. They seem to love the attention they garner by sporting a Halloween costume. Other dogs who are more apprehensive and unsure do their best to communicate that they want no part of donning any clothing.
It is important to take the time to heed your dog's body cues on wearing outfits. Nix the notion if you put a costume on your dog and he displays any of these signs:
Panting excessively
Pacing
Pawing at the costume
Sitting or lying down and refusing to move
If your dog does enjoy wearing hats, coats and other costume clothing on occasion, size up the costume properly. And heed these safety tips:Read More…