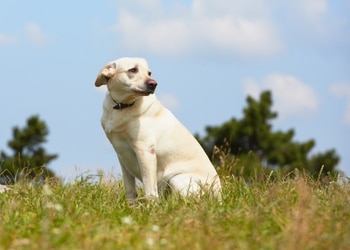 By G. Elaine Acker for Pets Best, a pet insurance company for dogs and cats. Elaine is the author of the Pet First Aid and Disaster Response Guide. Elaine and Dr. Larry Newell are developing an online Pet First Aid course, which will launch in early 2014.
On New Year's Day a couple of years ago, I was reminded how priceless an identification tag can be for pets. For a lost animal, that inexpensive, tiny scrap of metal can mean the difference between being home in time for supper, and spending the weekend (or longer) in a cold, lonely cage at the local shelter.
My husband and I were sitting peacefully in the living room watching a fire crackling in the wood-burning stove, when we heard a strange sound from the bedroom. A quick head count told us that our own dogs and cat were already present and accounted for, so my husband made his way down the hall and peeked around the bedroom door. "Um, there's a dog in here," he said.
Nothing was working in this poor dog's favor. Our new arrival wore a rabies tag from an out-of-town vet, but the numbers on the surface were scratched almost beyond recognition. It was New Year's Day. The dog was visiting from out of town. His veterinarian's office was closed. The city's office was closed, and there was no place open locally to help us scan for a microchip.

Read More…