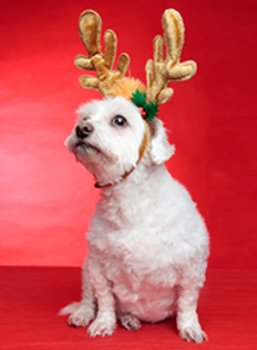 The tinsel has been hung and the lights have been strung; the holiday season is officially upon us! Giving gifts to the ones you love is easy when you take a cue from their four legged friends. Here are 10 pet-related gift ideas for the animal lovers in your life.
1. Pet treat cookbook
Every pet owner is looking for new ways to show their appreciation for the unconditional love and joy pets bring us every day, why not with nutritious home cooked meals? Check out www.amazon.com for the perfect culinary accessory for the chefs in your life.

2. Pet Sitting Services
Arrange for Fido to be well cared for while the animal lover in your life gets to escape for the weekend.
3. Personalized iPhone case
Check out www.winkflash.com, where you can upload your favorite picture of your pal's pet, creating a gift that will make her smile all year long.
4. Dog breed tree ornaments
Everyone thinks their dog's breed is the best, and they're right! Celebrate this by giving a look-a-like ornament to add some cheer to the Christmas tree. Check out www.forloveofadog.com for a selection of breed inspired tree decorations.
5. Bar-top inspired gifts

Read More…