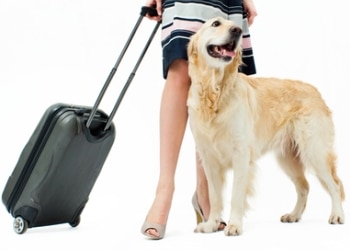 By Dr. Eva Evans, a veterinarian and writer for Pets Best, a pet insurance agency for dogs and cats.
Flying with your dog? Here are five tips to travel safe and smart.
As pets become more like family members, they are joining their human comrades during travel at an increasing rate. Traveling by car or RV is simple, but flying your pet on an airplane can get tricky! Follow these 5 steps to provide Fido with a first-class experience.
1. Get Your Travel Documents Early
If you are traveling domestically, travel documents include vaccination records, medications with dosages, known allergies, your veterinarian's phone number, a health certificate and a written plan just in case disaster strikes. An interstate health certificate from your veterinarian shows that your dog has been vaccinated appropriately and is in good enough health to travel. If you are flying to Hawaii or internationally, you will need additional forms and possible blood tests, flea treatments, etc for your dog. Be sure to visit your veterinarian at least two to three months before your departure date to prevent any hold ups with travel. When you arrive at the airport make sure you have additional copies of paperwork in case the originals are lost.
2. Discuss With Your Veterinarian If Your Dog Needs Sedation
Flying is stressful, especially if it's your first time! Many dogs do not need any sedation while flying, but occasionally some dogs do. If you suspect that your dog will have an uncomfortable level of anxiety, make sure to consult with a veterinarian. Often times these dogs will be prescribed a sedative that is safe for airplane travel. Be advised: the common sedative for dogs, Acepromazine, is NOT recommended for airplane travel!
3. Bring A Snack For Fido

Read More…