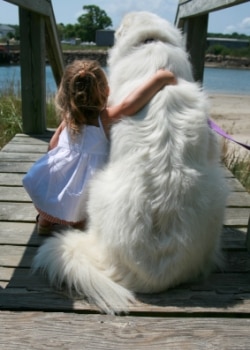 By Coleen Ellis, founder of the Two Hearts Pet Loss Center and writer for Pets Best, a pet insurance agency.
I know the old cliché is really very true: birds of a feather flock together.  Or, maybe better said, people who are alike can relate to others like them! Whichever way, I love the organic raw truthfulness of the nature of the comment.
When others find out that I'm in the pet industry, in particular as a pet loss professional and dealing with the very intimate topic of the death of these amazing pets that we love, I hear the most incredible stories.  Stories from the heart, stories that speak of such love and innocence.  Stories like this from a colleague of mine in the death-care profession, Faye Bonini.
Here's Faye's story:
My daughter Allison has some special needs (autism spectrum) and can be repetitive in her conversation. When she meets someone (waitress, cashier, person sitting near us in a restaurant), she always (and I mean always!) asks: Do you have a dog?
Allison has found this to be a great intro-statement, because everyone either has a dog or has had a dog – and everyone loves to talk about their dog. They show her pictures and sometimes even give her a picture of their dog. People absolutely light up when they tell her about their pet.
When I've enjoyed this most is when it's a senior…perhaps sitting alone at a restaurant or standing next to us in a store. It is heartwarming to see the spark in their eyes when they talk about their pet – perhaps a pet who died many years ago. It brightens their day to have someone take the time to talk to them – and allow them to talk about their beloved pet.

Read More…