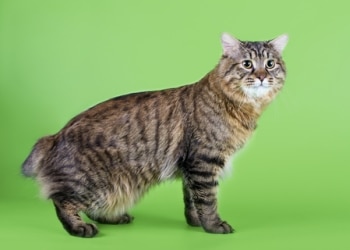 Dr. Fiona is a veterinarian and writer for Pets Best, a dog insurance and cat insurance agency.
About the American Bobtail
Weight:  7-15lb
Points of conformation: Well muscled, medium sized body with short heavy legs.  Bobbed tail.
Coat: Long or short haired. Soft dense undercoat.
Color: All colors are accepted.
Grooming needs: Low to moderate for the longer haired variety, low for the short haired variety.
Origin: Arizona, USA
Behavior Traits: Curious, easy going and friendly.
Is an American Bobtail cat right for You?Read More…