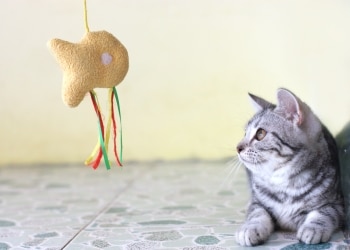 By Arden Moore, a certified dog and cat behaviorist with the International Association of Animal Behavior Consultants. Arden is an author, radio host and writer for Pets Best, a pet insurance agency for dogs and cats.
Cats who spend 24-7 inside the confines of home with no structured interactive play activities are often forced to seek less beneficial options to pass the time. They may nap too much, eat too much, or worse engage in destructive behavior in frustrated attempts to battle boredom and loneliness. But indoor cats who get opportunities to engage in purposeful play with their human roommates each and every day are more apt to thrive mentally, physically and socially.
That's why I encourage you to tap into your imagination. Pretend that the weather is too wicked for you to venture outside for even a mere 5 minutes each day. Use that time to play a game or two with your feline pal.
Recently, I adopted Casey, a fast-growing orange tabby from the San Diego Humane Society. He quickly made friends with Murphy, my senior cat who possesses kitten-like energy.  By dutifully treating each to daily interactive games, I been able to keep Murphy engaged and Casey motivated to learn basic commands like sit, come and touch paws. And, I am able to enjoy uninterrupted sleep at night because both are tired and ready for bed.
Here are three of my favorite people-cat games that are fun, easy and inexpensive to and easy to try:
1. Murphy in the Middle. Read More…