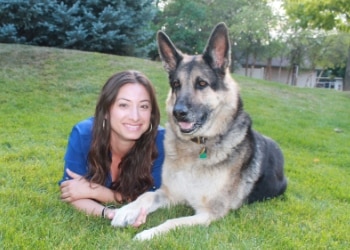 In honor of September being Pet Health Insurance Month, we're featuring stories of real life Pets Best customers. Today we meet Veronique, and her German Shepard, Baron.
A few years ago, something prompted me to research pet insurance. There wasn't anything wrong with my pet, but I thought it could be a good thing to have just in case.  I went online and was actually surprised to have found multiple providers of pet insurance, I had no idea it was so popular.  In my search, I found Pets Best and gave them a call. Once I received a quote, I was shocked at how reasonable and affordable their coverage was. The price and the friendly customer service is why I instantly enrolled my pet, and thank God I did.
It was about 6-8 months after I received health insurance for my dog Baron, when he started limping. At first, I thought it was something minor that would go away after a few days, but in fact, it got worse. When I took him to the veterinarian, they said he had torn his ACL and would require surgery.  At the time, I hadn't had insurance long enough to cover the operation, but when Baron unfortunately tore his other ACL a year later, Pets Best came to my rescue.  He recovered exceptionally well from both operations.