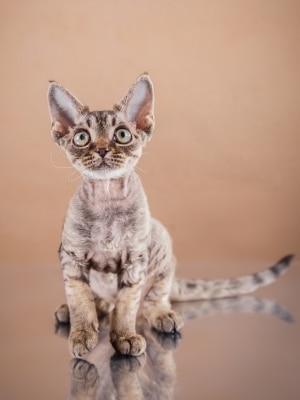 Dr. Fiona is a veterinarian and writer for Pets Best, a dog insurance and cat insurance agency.
About the Devon Rex
Weight:  6-9lb
Points of conformation: Prominent cheekbones with defined whisker pads. Short nose and large round ears set low, giving this breed an "elfin" look.  Long slender legs with small oval paws.
Coat: Very short coat lacks normal guard hairs and  is silky fine, the texture of crushed velvet.  It is whirled or curled more than wavy.
Color: Any color accepted.
Grooming needs: Minimal.
Origin: Devonshire, England
Behavior Traits: Playful and active.
Is a Devon Rex cat right for You?Read More…