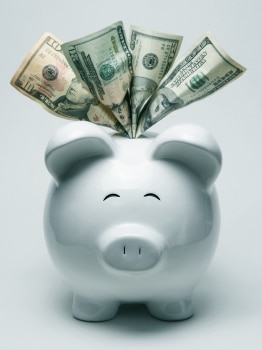 As someone who loves to travel, I often tell myself I'm going to start a special savings account. I'll save a few bucks every week and before long, I'll have enough to take an amazing vacation somewhere exotic.
Like many people, though, I haven't actually started that savings account. And even if I did, there's no guarantee it wouldn't end up going toward car repairs, medical bills or other emergencies (water leaking through the kitchen ceiling, anyone?)
Because I can't save for a fun vacation, I know I won't have the discipline to save for un-fun veterinary bills. And I don't think I'm alone– this is why pet insurance exists.
Can You Save Fast Enough?
Financial advisers sometimes recommend savings accounts instead of pet insurance. They argue that you can put a little away each month in anticipation of future vet bills. In theory, that sounds okay. But what if your "future" vet bill comes next week, or even a year from now? Will your savings account hold enough to cover it?
Even if you're putting around $35 into the account each month, (which is more than the approximate cost of a pet insurance plan, monthly) basic math exposes the real weaknesses of pet health savings accounts. If your pet gets sick or injured two months in, you'll only have around $70 at your disposal.

Read More…