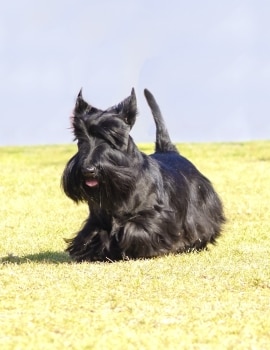 Dr. Marc is a veterinarian and writer for Pets Best, a dog insurance and cat insurance agency.
About the Scottish Terrier
Height (to base of neck): 10″
Weight:  females 18 – 21lb, males 19-22lb
Color: Brindle, black and wheaten.
Origin: Scotland
Coat: Double coat with wavy, wiry, long outer coat.
Life Expectancy: 12 – 15 years
Energy level: Moderate
Exercise needs: Moderate
Breed Nicknames: Scottie
Is a Scottish Terrier the Right Dog Breed for You?Read More…