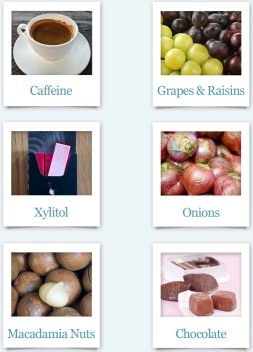 By: Dr. Eva Evans, a veterinarian and writer for Pets Best, a dog insurance and cat insurance agency.
We all know that dogs love people food. However, some common human food is dangerous and downright deadly to dogs. If you notice that your dog has possibly eaten any of the following foods, make sure to have him or her seen by a veterinarian immediately!
1. Chocolate
This is the most common toxic food that pets ingest. Chocolate contains two compounds that are toxic to dogs: theobromine and caffeine which will be discussed later. The toxins cause upset stomach which may be visualized as vomiting and diarrhea.  At high doses, dogs may show neurological signs such as seizures, weakness and coma. Dogs can also experience life threatening arrhythmias, or abnormal heart beats. The darker the chocolate, the more theobromine it contains and the more toxic it is. Treatment includes inducing vomiting (if your dog has eaten the chocolate within the last two hours), administering activated charcoal and giving high volumes of intravenous (IV) fluids. With treatment, most dogs who ingest chocolate will live.
2. Xylitol
This is a sugar substitute that is used in many "sugar free" human products including candy, chewing gum and toothpaste. This chemical causes a very dramatic release of insulin in dogs within 30 minutes of ingestion. This abnormal insulin release can cause dangerous hypoglycemia (low blood sugar). Signs include weakness, seizures and coma. If your dog survives this initial episode of hypoglycemia, they can develop liver failure in the days following ingestion. Treatment includes inducing vomiting, IV fluids with added dextrose (sugar) if your dog's blood sugar is low, and monitoring liver values for several days after ingestion. If your dog develops liver damage from ingesting xylitol, other medications and blood work may be necessary.
3. Grapes and raisins

Read More…