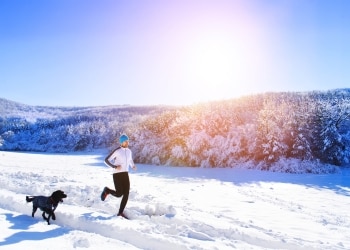 By Therese Pope, a freelance writer based in California. Pope writes for Pets Best, a pet health insurance agency for dogs and cats.
Despite the frosty nip in the air, your dogs and cats still need exercise and playtime during the winter months. Here are 5 exercise tips to keep pets active, healthy and happy when the cold weather hits.
1. Sign pets up for a fitness class
Active dog breeds such as Labs and Shepherds need plenty of exercise and will greatly benefit from an indoor fitness class where they can run and jump. During the winter months, sign them up for an indoor agility, swimming or flyball class. Interactive fitness classes are also a great way for pet parents to bond with their fur babies. These classes also help dogs socialize and get along better with other dogs.
2. Play indoor hide and seek games
If it's too cold for active pets to play and frolic outside, pet behaviorist Arden Moore suggests you create your own fun by playing indoor games. Hide and seek games with dogs reinforce their recall cues. Have your dog stay in one room while you hide in another room. Call out your dog's name in a playful, friendly manner and tell him to find you. When he finds you, praise him with treats and lots of petting. Another fun game is to hide treats for cats and dogs in certain locations of your home. Dogs and cat are naturally curious and love to explore and sniff, especially when searching out their favorite treats.
3. Get pets moving with fun toys
When the temps drop, lazy pets like to sleep the day away by lounging in front of a warm fire. Get your pets moving! Find fun, engaging toys that encourage them to bat, run, jump and play. Puppies and kittens love to chase and pounce on toys that roll on the floor and make noise. Buy toys filled with catnip and watch your furry felines run around for hours. You can also play fetch games inside. Roll or throw a ball down a hallway and have fun watching them run back and forth. When playing with pets indoors, make sure there are no dangerous hazards that could injure both pets and humans.Read More…