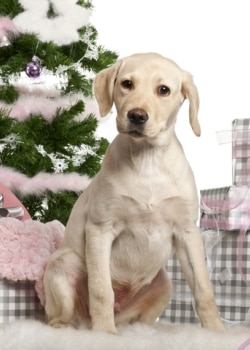 By Dr. Fiona, a veterinarian and writer for the pet health insurance agency, Pets Best.
Not sure what to get your dog(s) for the holidays? Here are five great gift ideas to say thanks to the pups in your life for their unconditional love all year long. You'll make their tail wag and several of the items double as a gift for you!
1. Dental chew toys
Dental disease is one of the most common preventable diseases seen by veterinarians. There are toys available that your dog chews on which are designed to remove plaque and prevent tartar formation. This can help stop the progression of dental disease and freshen breath. The added bonus of this is your dog's better breath when they get in your face to give you kisses – wanted or not! Your local dog store can help you find a dental chew toy that will be best suited for your dog(s).
2. Bowls designed to slow eating
When dogs gulp their food down quickly they often aren't chewing the kibble. Chewing on their kibble can actually help prevent periodontal disease by removing plaque and preventing tartar. In addition, eating quickly can cause excessive air to be swallowed by your dog which then leads to them having gas. And really, no one likes dog gas. There are bowls that are designed to slow down your dog's eating. With the benefits of eating slowly, both you and your dog will be getting a gift! Your local dog store can help you find a slow eating bowl that will work best for your speed eater dog.
3. Treat PuzzlesRead More…