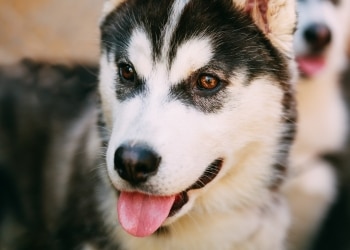 By Arden Moore, a certified dog and cat behaviorist with the International Association of Animal Behavior Consultants. Arden is an author, radio host, and writer for Pets Best Pet Insurance, a puppy and dog health insurance agency.
In order to properly read your dog's mood, you need to consider the entire package that includes body language, postures, vocalizations and actions. And, you need factor in the current environment or situation to put all of these canine clues into context.
Just like us, dogs feel joy, fear, pain and contentment.  So how can you tell if your dog is being affectionate, aggressive or feeling anxious? Here's a closer look at these three canine emotions:
Emotion #1: Affection
What to look for: Dogs do have favorite people, including you. They convey this love-you emotion by delivering kisses to your face or hand, wagging their tails in a relaxed circular cadence, flipping over to expose their bellies, following you in a happy trot from room to room and greeting you when you enter the front door like you're a rock star.
How to respond: Greet your dog by saying his name in a friendly, upbeat tone. Treat your dog to one-minute attention sessions in which you focus entirely on your dog and deliver purposely pets from head to tail. Make him feel like a rock star and his loyalty and love for you will grow.
Emotion #2: AggressionRead More…