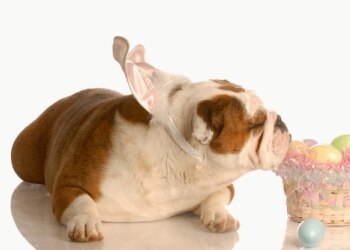 Easter is coming up, and much of the day is spent around food, including baskets full of goodies. You may be wondering if you should share your Easter dinner with your pet. While some traditional Easter foods are non-toxic to dogs and cats, they can still cause an upset stomach and lead to diarrhea and vomiting. Here's a list of commonly consumed foods at Easter and whether or not to share them with your pet.
1. Ham
Easter ham is perhaps the most traditional part of Easter dinner. Ham is high in calories and fat which can cause diarrhea in dogs and cats and also lead to life-threatening pancreatitis in dogs. High calorie foods also cause weight gain in pets. Just 3 ounces of ham is over 25% of the daily calories needed in a 25 pound dog.
2. Mashed Potatoes
Although potatoes are typically harmless in dogs, make sure that your mashed potatoes are not made with any onions or garlic which are toxic to dogs. The butter and milk that are added to mashed potatoes can cause diarrhea in your pets because dogs are often lactose intolerant and cats can be as well.
3. Green Beans

Read More…