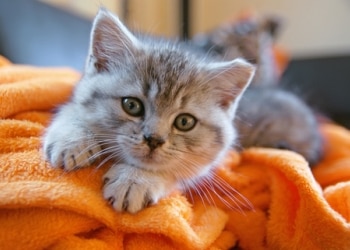 By Arden Moore, a certified dog and cat behaviorist with the International Association of Animal Behavior Consultants. Arden is an author, radio host, and writer for Pets Best, a cat insurance and dog insurance agency.
As I type this, my 10-month-old kitten, Casey, is sprawled across my lap, purring like a diesel-engine and rhythmically pushing his front paws up and down on my jeans. He sports a blissful look. But that's expected because he is performing what feline fans affectionately refer to as "making biscuits" – the nickname for the term, kneading. The action mimics a baker kneading dough.
Animal behaviorists note that cats knead for many reasons. Since our feline friends aren't talking, pet experts can only theorize as to why they knead laps, blankets and even the family dog.
1. First, felines are born kneaders. Nursing kittens instinctively know that by kneading on their mothers' bellies, the paw-pushing action around their mothers' nipples while they suckle will hasten the flow of milk.
2. Even after a kitten is weaned, he remembers the happy feeling of a full belly that came with kneading and nursing. Many continue kneading well into adulthood because the action puts them into a contented mood.
Here are other possible reasons cats knead:Read More…