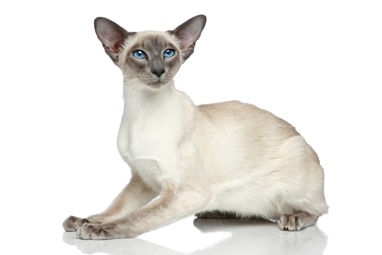 By Dr. Fiona, a veterinarian and writer for Pets Best, a dog insurance and cat insurance agency.
About the Javanese
Weight:  Males 8-12 lb, Females < 8 lbs.
Points of conformation: Slender, long, medium sized, fine boned body but more muscular than their Siamese cousins.  Long triangle shaped head with wide set ears meant to accentuate this.
Coat: Soft, silky coat lacks an undercoat.  Medium length.
Color: Red, Cream, Seal, Chocolate, Blue, Lilac, Blue-cream, Lilac Cream. Tabby is accepted.
Grooming needs: Moderately sheds with moderate grooming needs.
Origin: United States.
Behavior Traits: Vocal and athletic.
Is a Javanese cat right for You?Read More…