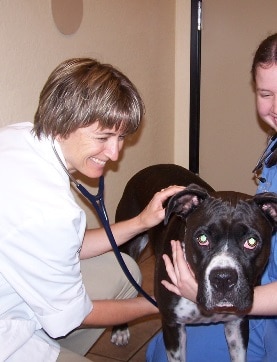 Each year, Pets Best receives thousands of nominations for our annual My Vet's the Best Contest—a contest developed to acknowledge the best veterinarians around the nation. This year, we've again completed the arduous process of selecting a group of finalists and we are pleased to announce the top seven.
Meet Dr. Pamela Ford. As a youth, Dr. Ford had a great love for companion animals and an interest in veterinary medicine. (She was active in the Arizona 4-H program, and a member of the equine, canine, and veterinary science programs.)
During her training at Colorado State University, Dr. Ford gained expertise in traditional western medicine. However, during the last decade of practicing, she expanded her repertoire to include many holistic and alternative treatment options, believing an integrative approach (also known as complementary therapy) achieves the best treatment outcome. She occasionally uses a combination of traditional medicine, nutritional supplementation, herbal formulation, and acupuncture to promote wellness for all pets.
Dr. Ford enjoys spending time with her family and animals, and tries to get outdoors as often as she can. "Watching our two-year-old daughter discover new things and experience the wonders of the natural world is a huge joy for me," says Dr. Ford.
What do you enjoy most about being a veterinarian?Read More…