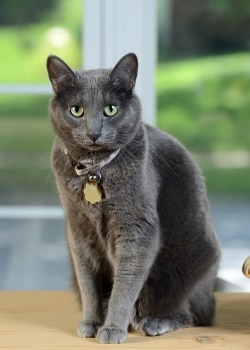 By Dr. Fiona, a veterinarian and writer for Pets Best, a dog insurance and cat insurance agency.
About the Korat
Weight:  6-10lb
Points of conformation: Small to medium sized semi-cobby (compact) body with heart shaped head and a downward turned nose. Large rounded ears, medium length tail may have a kink palpable.
Coat: Single short coat that lies close and is silky in texture.
Color: Hairs are dark grey in the center and the ends are tipped with silver. (Termed silver-blue)
Grooming needs: Minimal, weekly brushing.
Origin: Thailand (then was Siam)
Behavior Traits: Gentle and affectionate
Is a Korat cat right for You?Read More…