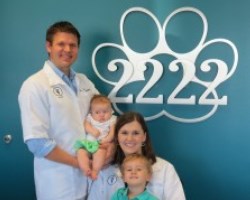 Meet Drs. Frank & Mindi Metzler, one of the six finalists in the Pets Best Summer 2014 round of the My Vet's the Best Contest. Pets Best, a leading U.S. pet health insurance agency developed the contest to recognize the country's best veterinarians. Each year, thousands of veterinarians receive nominations from grateful pet owners.
Drs. Frank & Mindi are both 2009 graduates of the Texas A&M College of Veterinary Medicine. They met and fell in love while in college, and later shared a common dream of owning their own vet practice in beautiful Texas Hill Country.
Dr. Frank's veterinary interests include soft tissue and orthopedic surgery, ophthalmology and internal medicine. In his spare time he enjoys canoeing, hiking, and cooking.
Dr. Mindi's medical focus is in veterinary dentistry, soft tissue and orthopedic surgery, and client education, giving free monthly lectures to help pet owners further understand their pet's health. Outside of work, Dr. Mindi enjoys reading, working out, and playing word games.

Read More…