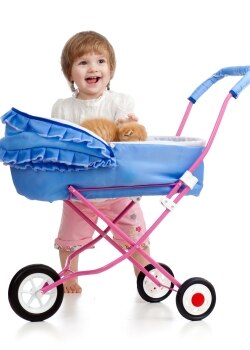 By Arden Moore, a dog and cat behavior expert and author of 26 best-selling pet books. She hosts the Oh Behave Show on Pet Life Radio and is a writer for Pets Best, a pet insurance agency for dogs and cats.
If you are fortunate to share your home with a confident indoor cat who is pining to investigate the great (but sometimes, scary) outdoors, a safe option is to train your feline friend to ride in a pet stroller you push.
Some senior dogs and canines with mobility issues have been enjoying sidewalk trips while cruising inside comfy strollers, so why not fine felines? You are giving your cat a chance to expand his world beyond inside your home and what he can see from a window perch or cat furniture tree. Being outdoors stimulates his mental muscles and hones his senses of smell, sight and sound. And, I guarantee that after your neighborhood jaunt, your cat will be ready for a cat nap!
In order to make this a win-win for you and your cat, heed these seven safety tips:
1. Size matters. Select a pet stroller that accommodates your cat's size. He should be able to easily turn around inside it.
2. Tap your cat's curiosity. Bring the stroller inside your home and allow your cat to investigate it on his own terms for a few days. Make the stroller more appealing by placing treats on the wheels and in the seat for your cat to sniff, find and enjoy.Read More…