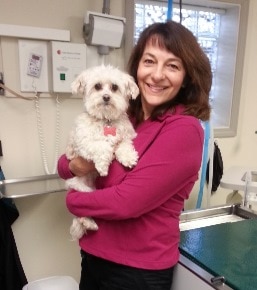 At Pets Best, we recognize that the veterinary industry is largely powered by the hardworking and dedicated certified veterinary technicians across the nation. To acknowledge their tireless efforts, we created the Why I Love Being a Vet Tech contest, now in its second year. In partnership with the National Association of Veterinary Technicians in America (NAVTA), we are pleased to announce the top eight finalists for 2015.
Meet Deanna Herfel, a registered veterinary technician (RVT) since 1999. She began working at the San Diego Wild Animal Park (now the San Diego Zoo's Safari Park) in 1984. Deanna now works at the Suburban Animal Clinic in Columbus, Ohio.
Deanna recently added a cat to family after her husband's parents were unable to care for the animal in the assisted living environment. She also owns a mixed breed named Willy, rescued after he was mauled. Deanna enjoys spending free time with her family—"both human and furry," she adds. She and her grown children also like to go wine tasting, and she has also developed an interest in paddle boarding.
Read on to learn more about Deanna and her contribution to the veterinary community.Read More…