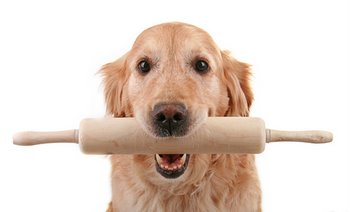 Animal lovers and pet insurance enthusiasts everywhere will be excited to learn that today is National Dog Biscuit Day! And while it might be easy to swing by the store on your way home from work, why not bake some dog biscuits in your own kitchen? It's easier than you might think!
Even if you don't consider yourself a baker, don't worry. The best recipes only require a few easy-to-find ingredients, which won't take a toll on pet health if given in moderation. They're also much easier to make than people treats. And of course, we pretty much guarantee your dog will scarf them right up.
Peanut Butter Bones
1 1/2 c. whole wheat flour
1 1/2 c. white flour
1/2 c. natural peanut butter (no added sugar, salt, etc.)
1 c. water
2 tbsp. oil
Directions: Preheat the oven to 350 F. Combine oil, peanut butter and water. Add flour gradually until dough is formed. Knead it and roll it out to about 1/4″ inch thick. Cut into shapes with a bone-shaped cookie cutter and bake on an ungreased cookie sheet for about 18 minutes. Keep a close eye on them because they'll burn fast once they're done baking!