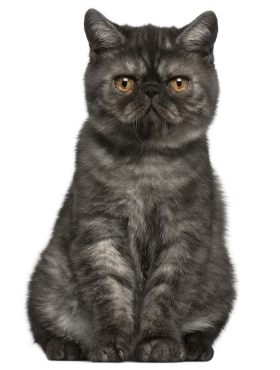 By Dr. Fiona, a veterinarian and writer for Pets Best, a dog insurance and cat insurance agency.
About the Exotic Shorthair
Weight:  8-14 lb
Points of conformation: Similar to that of the Persian, with a medium sized cobby body, short heavy legs and round head with snub nose.
Coat:  Very soft dense plush double coat is a little longer than shorthair, almost medium in length
Color: All Himalayan and Persian  colors and patterns are accepted.
Grooming needs: Daily grooming is needed.  Face may need regular cleaning to prevent eye matter accumulation.
Origin: Cross of the British Short hair with Persian.
Behavior Traits: Curious and affectionate.
Is an Exotic Shorthair cat right for You?Read More…