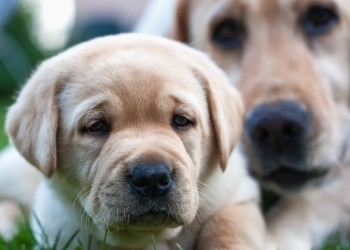 By Therese Pope, a freelance writer based in California.
With the many pet health insurance plans out there, it can be confusing to figure out the best, most affordable plan for your furry family members. Whether you own a 7-week-old kitten or a 10-year-old dog, the coverage options below will fit the healthcare needs of your pet – at any stage of their life.
Which Statement Best Describes Your Pet?
1. I have a young dog or cat (1-3 years old) 
Insure pets when they are young before any health issues arise. Companies such as Pets Best cover puppies and kittens as young as 7 weeks old. The best option for young pets is an Accident and Illness Plan. Playful puppies and kittens tend to be mischievous and can swallow harmful items, injure their paws or break a leg. Comprehensive Accident and Illness Plans cover unexpected injuries, illnesses, emergency care, surgery and hospitalization.
With young pets, you'll also want to have a Wellness/Routine Care Plan. By adding wellness coverage to an accident and illness plan, you're able to stay on top of your pet's preventative care. Wellness plans cover items such as annual exams, vaccinations, dental cleanings, and spaying/neutering. A wellness plan is a cost-effective way to budget for routine medical expenses, as well as catch life-threatening illnesses early-on or before they happen.
2. I have an adult pet
For adult pets, look into Accident and Illness Plans. As mentioned above, these plans cover unexpected injuries and illness, including cancer. Dogs and cats – despite their age, breed, and activity level – can still become sick so it makes sense to cover both accidents and illness.
Similar to young pets, you should insure adult pets as soon as possible. This is because providers do not cover pre-existing conditions, so you'll need your coverage to be in effect before issues arise for them to be covered. However, Pets Best is unique in that they cover some health conditions that can be considered cured.
An Accident and Illness Plan is your best choice so that you're prepared for any health issues that come up in the future. Even if your pet has a pre-existing condition, you should consider an accident and illness plan so that you have coverage for any new health problems that can happen.
Additionally, you may want to add a Wellness/Routine Care Plan. Wellness plans cover items like vaccinations, dental cleanings, and flea/tick/heartworm preventatives. Routine and preventative care is important in helping catch illnesses early-on or before they happen.
3. I have a senior pet Read More…