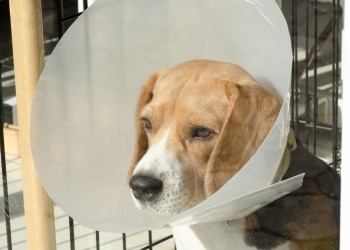 By Dr. Eva Evans, a veterinarian and writer for Pets Best Pet Insurance, a dog insurance and cat insurance agency.
All dog breeds are at risk for injuries. However, medium and larger dogs are at risk for different types of injuries from smaller breeds. Examples of these medium and large breed dogs include Labradors, Shepherds, Hounds, Rottweilers, Golden Retrievers, Pit Bulls and Dobermans.
1. Lacerations and Wounds – wounds and skin lacerations are one of the most common injuries seen in after-hours emergency veterinary hospitals. This is most often a result of a dog fight. Big dogs tend to initiate fights with other animals more often than smaller dogs. While the can do some serious damage with their teeth, they often sustain wounds themselves from the other dog in the scuffle. In the wounds a punctures and very small, they will need to be cleaned but may not need stitches. If the skin is torn, stitches and a drain tube are often needed for proper healing. Any time an animal has a wound or laceration, regardless of the cause, they should be seen by a veterinarian for proper antibiotics and pain medications.
2. Broken Limbs – Read More…