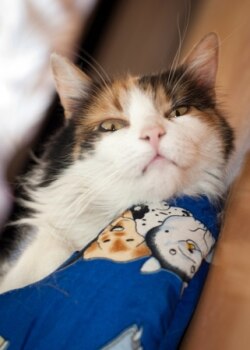 By Arden Moore, a master pet first aid/CPR instructor with Pet Tech, a hands-on training program. Arden is an author, radio host, and writer for Pets Best, a cat insurance and dog insurance agency.
Keeping your cat safe is a year-round commitment. That's why knowing what to do and what not to do in a pet emergency is one of the best ways to be your cat's best health ally.
Even if your cat spends 24-7 indoors, she is at risk for one of three types of burns: chemical, electrical and thermal. She could be trapped in the dryer that is turned on, chew on exposed electrical cords, brush up against a burning candle or leap up on the hot surface of a ceramic stovetop.
Just like in people, cats can suffer first-degree, second-degree, or third-degree burns. First-degree burns cause mild discomfort, second-degree burns penetrate several skin layers and are very painful, and third-degree burns injure all layers of the skin and can cause your cat to go into shock.
If your cat gets burned, DO take these three steps:
1. Grab a bath towel and wrap your cat to safely restrain her and reduce your chances of being bitten or scratched. Do not wrap her too tightly in the towel because she can overheat en route to the veterinary clinic.
2. Gently place a damp cloth soaked in cool clean water on the burn site. This will act as a compress to help take away some of the heat from the burn site.

Read More…