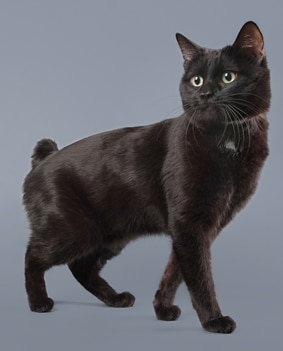 By Dr. Fiona, a veterinarian and writer for Pets Best, a dog insurance and cat insurance agency.
About the Manx
Weight:  8-12lb
Points of conformation: Medium sized cobby (compact) body with round features.  Small round tipped ears and short neck.  They have a slightly arched spine.
Coat: Dense, short, double hair coat with hard textured outer hairs.  Longhaired variety has silky textured medium length coat.
Color: All colors are accepted.
Grooming needs: Daily grooming is needed to prevent the undercoat from building up.
Origin: Isle of Man, England
Behavior Traits: Sweet and playful
Is a Manx cat right for You?Read More…