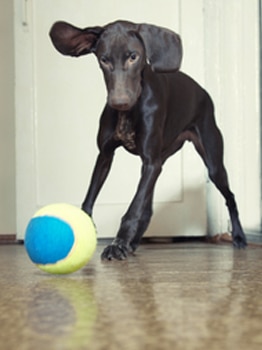 Dr. Fiona, Doctor of Veterinary Medicine, guest blogs for pet insurance provider Pets Best.
Puppy jumping, sloppy kisses and general 'misbehaving' is adorable when your puppy is less than 10 pounds, but this behavior can quickly become undesirable as your puppy becomes a full grown adult. Personalities are very individual in every dog, and some just seem to have more uncontainable energy! What should you do when simple uncontrollable joy becomes a little too much to handle? Dog training obedience classes are a great idea for all puppies, high energy or not, but there are some other things you can do to help a particularly overactive dog.
1. Exercise, exercise, exercise…then exercise some more!
A leash walk twice a week just is not enough activity for a high-strung dog. Spot might be better off going on runs with you. Not a runner? Teach your dog to fetch and use a "chuck-it" or other device that will maximize your throwing power and save time.