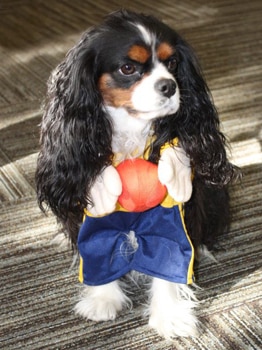 Halloween is such a fun holiday, it's only natural we want to share it with our pets. Unfortunately, most traditional Halloween activities aren't pet-friendly or pet safe. So, what's a costume-loving pet owner to do? Here are three fun ways you and your pets can celebrate goblins and ghouls this October.
Community Events
Check with your local shelters and pet charities, and you'll likely find all kinds of pet-friendly Halloween events. From costume contests and photo shoots to parades and parties, they're safe for pets and typically benefit pet-related causes. If you have a few hours to spare, consider volunteering as a co-host to make the job a little easier for everyone involved.
Special Homemade Treats
Classic Halloween treats like chocolate and raisins are toxic to dogs, so be sure they're not within reach of your pet. Instead, whip up some homemade healthy treats for your pup. Here's a delicious peanut butter and pumpkin recipe we love from Allrecipes.com. The dough can be cut into any shape, so get out those Halloween cookie cutters!