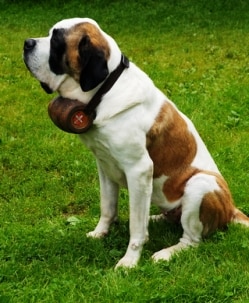 Coleen Ellis, from the Two Hearts Pet Loss Center, is a Guest Blogger for dog insurance provider, Pets Best.
Getting to the celebration of life service, guests walked by a table that held all of those items that were important to Cherokee and her family. The table had her scrapbooks, favorite toys, leash, collar,…. As well as her urn, paw print and fur clipping. Yes, it truly was all about Cherokee.
Playing on the computer was a photo montage of Cherokee and the life that she shared with her family. From her baby photo as a "tiny" St. Bernard to her big girl photos – dressed in Halloween costumes, taking part in the Paws to Read program at the schools with the children, walking the neighborhood, and memory after memory. The mood in the house was somber yet very reflective as everyone held close their own particular memories of Cherokee and what she meant to them; the somber moments being interrupted quite often with laughter as someone relayed yet another story of something that Cherokee had done!
The guests visited and told stories. At one point in the evening, I was honored to deliver the eulogy for the family. Interestingly enough, I was also asked to speak about the importance of having a celebration of life service like what was happening. Read More…