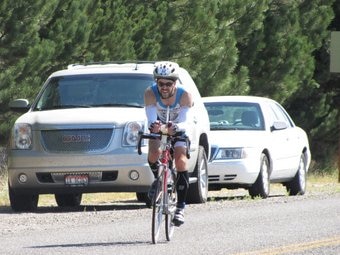 I work for a pet insurance company by day, but in my spare time, I love to race in triathlons. During my most recent competition, my passion for animals and racing intersected.
With ice poured down my suit to stave off the heat, I was running down a lonely stretch of a country road. Only fellow competitors and I were out this far. It was over 5 hours into my half-iron distance triathlon, but in spite of the isolation, I noticed a most unusual spectator.
There was no cheering, encouragement, or cowbells clanking—just a silent stare. The stare was enough to make me stop in mid-stride and turn around. Here at mile 67 of the 70.3 mile course, was a pathetic sight: a little orange and white kitten. He was emaciated and injured. A patch of fur was missing from the top of his head, and he had an open, oozing wound. I knew this cat needed help immediately, but what could I do out on a race course in the middle of nowhere? I had no phone and only a sports drink and some carbohydrate gel.