4th of July Pet Safety Tips
Posted on June 26, 2014 under Pet Health & Safety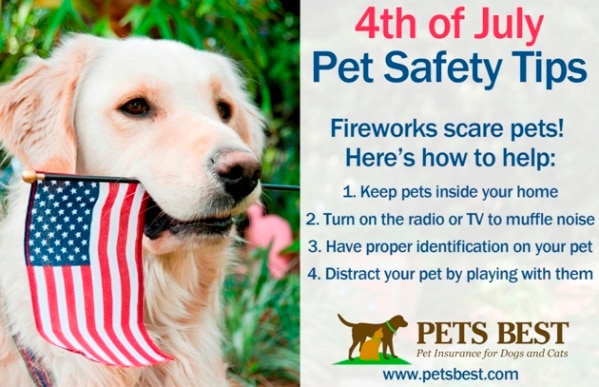 Click here for a printable version of the 4th of July Safety Tips.
Or Share this Image On Your Site
Please include attribution to http://www.petsbest.com/ with this graphic.
Fireworks on and around the 4th of July can scare dogs and cats causing them to run off and opening the door for danger. Here are 4 tips to keep your pets safe.
1. Keep dogs and cats inside your home.
2. Turn on the radio or TV to muffle noise.
3. Have proper identification on your pet (their collar with tags and consider a microchip as well).
4. Distract your pet by playing with them.
If your dog or cat does bolt and is in potential danger of getting injured, having a pet insurance policy offered by Pets Best can help make veterinary bills more manageable by reimbursing you off the veterinary bills from 70-100%.
Accidents Happen. Protect Your Pet!

Get a Quick, Free Quote Online
or Call Pets Best at 877-738-7237